How Atherstone Town's pre-season friendlies have put the bite back into the Sheepy Road club's ambitions
---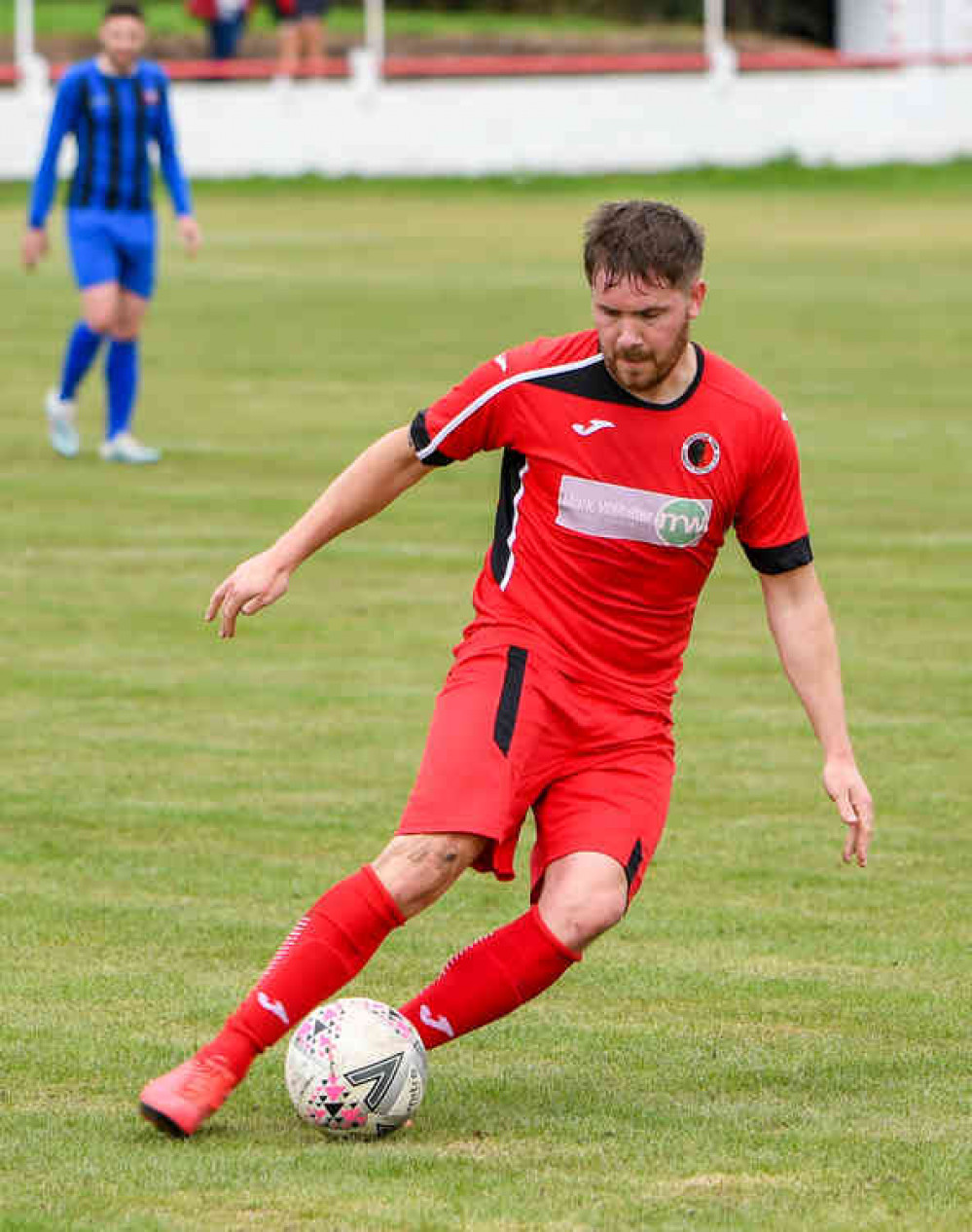 Six hit: Pre-season fireworks from Alex Naughton . . . Picture by Gary McGuffog
'HIGH FIVES' ON THE BOUNCE FOR CLUB BARING THEIR ATTACKING TEETH IN WARM-UP FOR MUCH-ANTICIPATED 2020/21 SEASON
AND ATCFC'S FRONTLINE FIREPOWER SHOWS 'NAUGHTS INTO SIX DOES GO'
ADDERS LEAGUE FIXTURE LIST ANNOUNCED WITH FIRST HOME GAME IN FRONT OF FANS NEXT TUESDAY
ATHERSTONE Town go into their Saturday league opener on the crest of a "high fives" morale-boosting run of form.
The Adders have served up a feast of attacking football during their pre-season friendlies.
They put an early reversal against a traditionally-strong Nuneaton Borough outfit behind them – and then hit the next five opponents with a winning formula of flair married to a tight back line.
Since the 2-0 defeat, free-scoring ATCFC have found the net 16 times and woodwork on countless other occasions while conceding only four goals.
Alex Naughton is top of the frontline firepower in Adders' friendlies with six goals including a hat-trick in last Tuesday's 4-1 demolition of Southam United, who scored first.
The Sheepy Road club's top scorers in August – Naughton and Ryan Quinn – both found the target on Saturday in the Adders' last friendly against Leicester Nirvana before their opening MFL Division One away to Heath Hayes at the weekend.
Adders ran out 2-1 winners, although Naughton also hit the woodwork twice while Tabang Dube headed a Sam Belcher cross against the crossbar.
In addition, Quinn has notched three goals, Belcher and Mitch Thomson two apiece, with one each coming from Dube, Joe Obi and Owen Ward.
The results: Nuneaton 2 Atherstone Town 0, ATCFC 3 Tamworth 1, ATCFC 6 Bolehall Swifts 1, ATCFC 1 Racing Club Warwick 0, Southam United 1 ATCFC 4, ATCFC 2 Leicester Nirvana 1
Adders now have a "first draft" league fixture list with the much-awaited first game of the 2020/21 season on Saturday, September 5 away to Heath Hayes.
Sheepy Road fans were let back into the ground for the first time since the March lockdown on Saturday August 22 against Racing Club Warwick.
Adders' first home fixture of the new season in the MFL – which will allow a maximum of 300 supporters – is a week today on Tuesday, September 8 against Chelmsley Town who finished in 19th place last season but have been chosen as one of three teams to represent the league in the FA Cup this season.
The ATCFC MFL Division One fixture list:
2020
Saturday September 5 - Heath Hayes (a)
Tuesday September 8 -Chelmsley (h)
Saturday September 12 - Stapenhill (a)
Tuesday September 15 - Brocton (h)
Tuesday September 22 - Paget (a)
Saturday September 26 - Studley (a)
Tuesday September 29 - Uttoxeter (h)
Saturday October 3 - GNP (a)
Tuesday October 6 - Cadbury (h)
Tuesday October 13 - Rocester (a)
Saturday October 17 - Lichfield City (a)
Saturday October 24- Leicester Road (h)
Saturday November 7 - Paget (h)
Saturday November 14 - Kirby Muxloe (h)
Saturday November 21 - Stafford (a)
Saturday December 5 - Nuneaton Griff (h)
Saturday December12 - Lichfield City (h)
Saturday December 19 - Cov Copsewood (a)
Saturday December 26 - Ashby Ivanhoe (a)
2021
Saturday January 2 - Stapenhill (h)
Saturday January 9 - Hinckley AFC (a)
Saturday January 16 - Studley (h)
Saturday January 23 - Leicester Road (a)
Saturday January 30- Heath Hayes (h)
Saturday February 13 - Uttoxeter (a)
Saturday February 20 - Chelmsley (h)
Saturday February 27 - Stafford (h)
Saturday March 13 - Nuneaton Griff (a)
Saturday March 20 - Ashby Ivanhoe (h)
Monday April 5 - Kirby Muxloe (a)
Saturday April 10 - Cov Copsewood (h)
Saturday April 17 - Hinckley AFC (h)
Saturday April 24 - Brocton (a)
Saturday May 1 - GNP (h)
Saturday May 8 - Rocester (h)