Coronavirus #ClapForCarers salute: Atherstone, hands up if you fancy repeating an exercise guaranteed to make everyone in the NHS feel better (even if only for a moment)?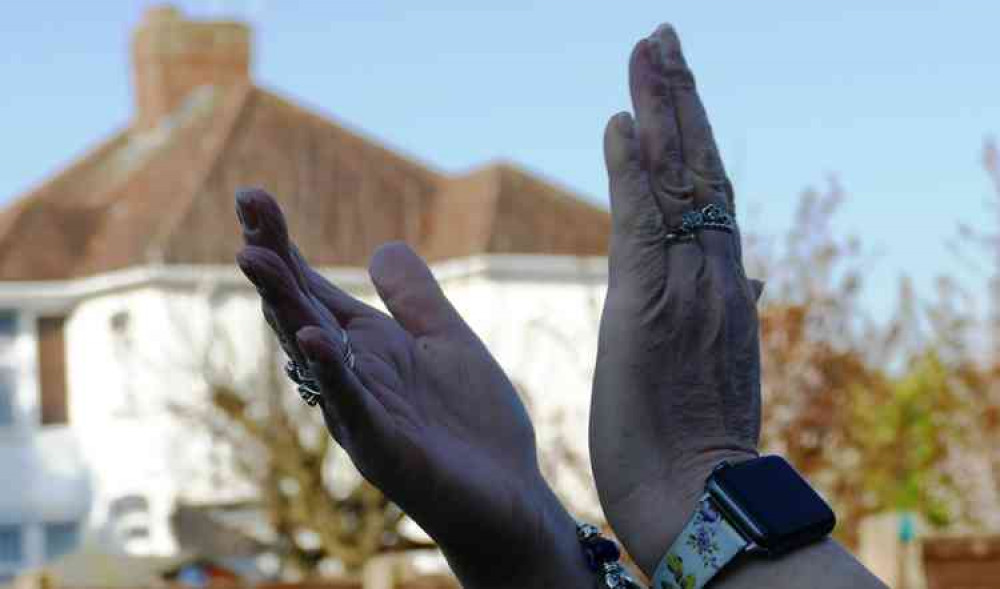 Clap of honour: Let's hear it at 8pm tonight
H2] LET'S SET MOBILE PHONE ALARMS AND AT 8pm TONIGHT CHEER AND CLAP OUR NATIONAL HEROES AS THEY BATTLE COVID-19 AND DISGRACEFUL DEFICIENCES IN PERSONAL PROTECTION[.H2]
ATHERSTONE and district is currently still allowed exercise once a day – well let's put it to good use tonight and turn a one-off tribute to our NHS national heroes into a regular weekly dignified salute.
Readers of your number one local news platform should set mobile alarms for 8pm on Thursday and give a rousing round of applause to our brave army of carers who have been left almost defenceless in terms of personal protection equipment and testing against the coronavirus pandemic.
The #ClapForCarers or #clapforourcarers campaign was started last week as a salute to the brave NHS staff in the face of the deadliest enemy it's faced since the launch of our national health service in 1948.
Until now we've been sending our brave men and women to fight this enemy virus without basic protection – or knowing whether they have become infected.
We are not privy to whether frontline staff at Atherstone's main hospital – the George Eliot in Nuneaton – all have proper PPE or have started being tested.
We know all surgeries in Atherstone and district don't have everything they need as highlighted in Nub News with GPs admitting a global deficiency in equipment medics and carers need to protect themselves against Covid-19 has led to a "shortfall in some supplies". They made a fresh appeal for seamstresses to make protective scrubs – a loose-fitting garment that easy to wash on a hot temperature after coming into face-to-face with patients..
We do know that one large district hospital in the Midlands reported it was only able to test three staff members per day due to a lack of swabs, NHS Providers said.
While another trust in the West Midlands said while it could carry out up to 300 tests per day, but a shortage of reagent and testing kit availability meant only 20 were carried out daily.
Downing Street admitted yesterday some 2,000 frontline NHS workers have so far been tested for coronavirus, as it reiterated calls for trusts to use any spare testing capacity for staff.
But some NHS trusts say they are limited in the number of tests they can carry out due to continued shortages of swabs, reagents and testing kits.
Despite there being capacity for 12,750 daily tests, only 8,630 were taken on Monday, the Prime Minister's official spokesman told a Westminster briefing.
He said: "In terms of NHS frontline staff who have been tested overall, it's now over 2,000 and staff will be getting the results fed back to them over the next few days."
The spokesman said the Government was "very clear" that it wants more testing to be carried out.
"A clear instruction has been sent to all NHS hospital trusts that where there is capacity available it should be used on testing frontline staff and we would hope to see that happening," he said.
NHS bosses have now been ordered to "max out" testing facilities so hospital staff are tested.
Around 1.2 million people work for NHS England in total.
In a letter to NHS trust chief executives on Wednesday, health officials said that labs should be "fully used" every day.
Spare tests can be given to hospital staff and those working in neighbouring ambulance and acute trusts, the letter adds.
When this has been implemented, and extra lab volumes become available, this will be rolled out to staff in GP services, social care, mental health and community services.
Northampton General Hospital NHS Trust set up a staff testing station over the weekend as part of a national pilot scheme, carrying out the first tests on Monday for those working in priority areas.
More than 1,000 workers have since been tested, with just 27 testing positive for coronavirus out of 184 results received so far.
The trust's chief executive Dr Sonia Swart said: "Offering this testing means that we can give our staff the reassurance they need to be able to come back to work and know they are healthy."
So, returning to our tribute – let's hear it for the NHS again tonight.
Open a window, stand on your balcony or retire to the back garden and give them all a cheer and clap of honour.
Resist the temptation to rush out into the street to clap and undo all the good work of #StayHomeSaveLives.