Why you'll hardly have to move a muscle to watch Atherstone Town CFC in action after 141 days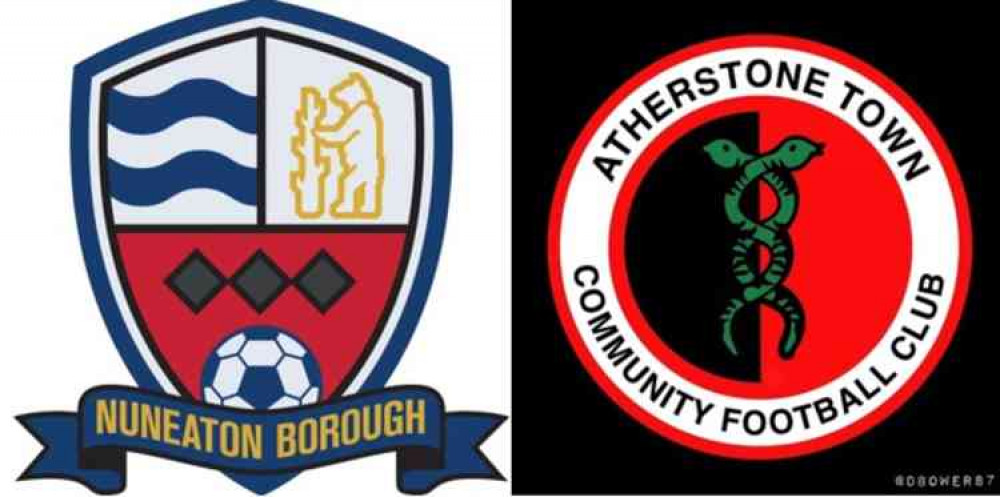 Neighbourly rivals: Atherstone Town CFC and Nuneaton Borough
FOOTBALL'S REALLY COMING HOME WITH ARRIVAL OF THE 'ARMCHAIR FAN' AT FIRST OF SEVEN FRIENDLIES FOR ADDERS
TONIGHT'S PRE-SEASON OPENER IS BEING LIVE-STREAMED FROM NUNEATON BOROUGH'S YOUTUBE CHANNEL
ATHERSTONE Town enter a brave new world tonight inside a Covid-19 bubble but fans don't have to miss the match action at derby rivals Nuneaton Borough.
For supporters will neatly sidestep virus restrictions to witness their side's opening friendly of the 2020/21 season as real "armchair fans" in a virtual setting – after no less than 141 days away from the beautiful game.
The Liberty Way club have agreed to live stream the start of a leap into the unknown – in footballing terms – on their YouTube channel.
Current FA legislation – led by Government guidelines on coronavirus – does not allow supporters to attend pre-season friendlies.
In fact, a U-turn by Boris Johnson following a spike in virus cases even put paid to spectators watching county cricket matches, the start of the World Snooker Championship and racing at Goodwood in pilot sports scheduled for over the weekend.
But the Borough wanted to help and after testing the service– live commentary will be provided by the Boro Radio team.
Borough plan to stream all home friendlies while fans are barred from the Liberty Way stadium.
A statement from ATCFC read: "We would like to thank Nuneaton Borough for providing this opportunity for all Adders fans to be able to watch this derby friendly."
Tonight's match – the first action since March 16 – is the first of an original programme of five friendlies for the Adders which have been augmented to seven – ending with a fixture against Leicester Nirvana on Saturday August 29 at 3pm.
It will be a chance for the new management duo of Adam Davies and Ross Innes – who hardly had their feet in the dugout before Covid lockdown struck – and new first team coach Chris Tullin to show off new signings Isa Abraham and Callum Carsley along with returning 'newcomers' Niall Rowe, Ash Gray and Mitch Thomson.
Luke Benbow has become the eighth Borough player from last season to commit to Jimmy Ginnelly's squad for the 2020/21 campaign. He joins Tony Breeden, Joel Kettle, Ryan Edmunds, Jordan Goddard, Harry Jackson, Jamie Hood and Ryan Braimbridge who have all confirmed they are staying at the club for another season.
Subscription to the YouTube channel is free, so just click here to get watching.
Kick off is 7.45pm.