Atherstone Town arranges five friendlies for a season waiting on a deadly opponent to finish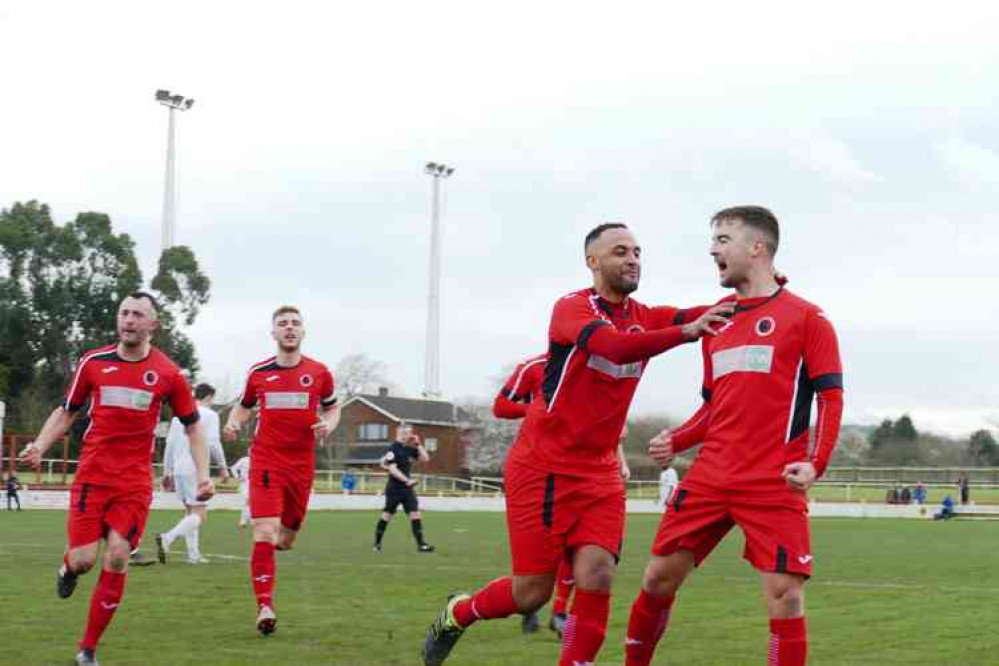 Good times (pre Covid-19): Joe Obi embraces Ryan Quinn after he gave Adders the lead against Consett in the FA Vase quarter final
FAMILIAR NAMES IN THE LIST OF WARM-UP MATCHES BEFORE 2020/21 TERM GETS UNDERWAY
STAND-OUT GAME AGAINST NEIGHBOURS NUNEATON BOROUGH WITH THE ADDITION OF EX-FOOTBALL LEAGUE STAR LEROY LITA
ATHERSTONE Town have gone for "something old, new, borrowed from the past and blue" as the club hopes for matches made in heaven to prepare for a new season weighed down by memories of the last.
The club, which finds itself under new guidance at the helm after the departure of outgoing chairman Brian Henney and coming off the back of a playing campaign truncated by the coronavirus pandemic, has set out its stall for the opening friendlies.
Accepting the dates are be confirmed and with "fingers crossed", the Sheepy Road club has five pre-2020/21 season games initially organised.
The "old" comes in the shape of where it is aiming to aspire – Midland Football League Premier football. Racing Club Warwick FC, formed in 1919, are one of the opponents.
Next on the "new" list is a fixture against Leicester-based LFE Academy & Football Club, playing in the Under 21s Midland Football league.
And "borrowed from the past" – and needing no introduction for striker Joe Obi as its former all-time leading scorer and past manager – a game against Midland League Division Two opponents Bolehall Swifts.
As for the blue – well they don't come more neighbourly, or with a history of fierce rivalry going back more than half a century – than Nuneaton Borough FC.
Atherstone and the Liberty Way club – then playing at Manor Park – both enjoyed success in the mid-1970s in the old Southern League Premier.
Once the Adders made it from the West Midlands League, they did their best to match a club which consistently performed well in the upper reaches of non-league football before automatic promotion to the Football League.
In 1973-74 the Adders were just four points and two places behind the Borough and two seasons later "did them", finishing third – a point and two positions above their old sparring partners. But 1978-79 saw the parting of the ways with the Nuneaton club heading to the new Alliance Premier and Atherstone Town out of existence to be reborn as United.
The Adders will have to contend with Borough's new close season signing Leroy Lita, a 100-goal former England Under-21 striker with a pedigree including spells at Reading, Middlesbrough, Swansea, Sheffield Wednesday, Charlton and Birmingham.
The fifth game will pit the Adders – under new playing bosses Ross Innes and Adam Davies – against South Warwickshire side Southam United, from the Hellenic League Division Two North.
With football's elite still not sorted because of the coronavirus crisis – the 10th tier of the English game will have to wait its turn.
But interim CFC overlord Nick Corbett is planning to "move forward" from events of the 12 months, having drawn a line on a "season like no other".