Outgoing Atherstone Town CFC chairman urges fans to fill main committee roles or risk the club's survival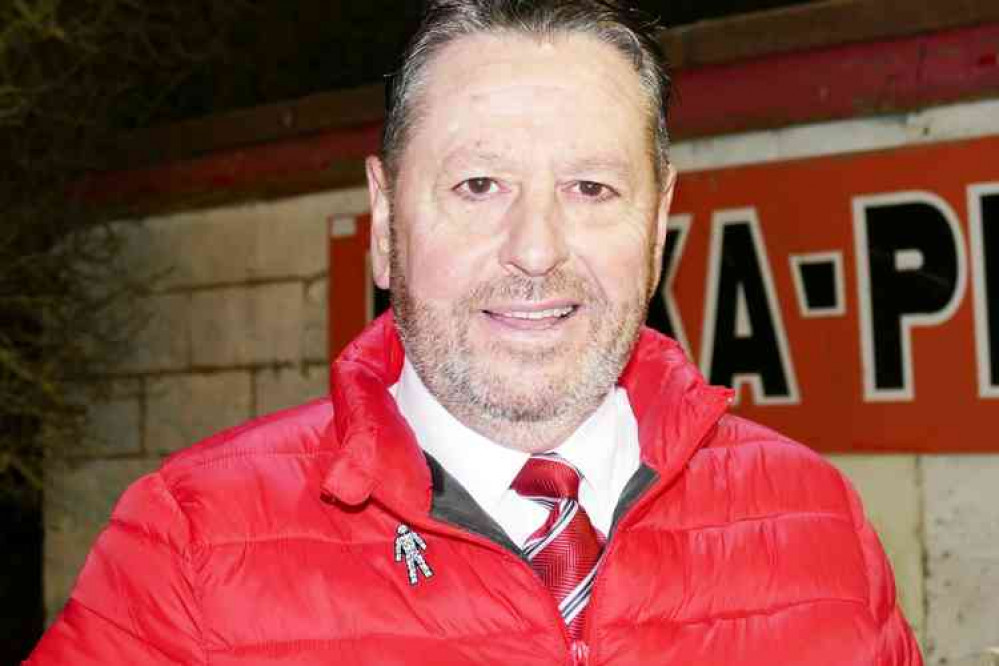 Brian Henney: Stepping down from role as club chairman of ATCFC
Atherstone Town has been rocked by chairman Brian Henney's decision to step away from running the club at the end of a season in which lower league football finds itself teetering on the brink of extinction from the coronavirus outbreak.
Chairman Henney has cited being the victim of "disgraceful verbal and almost physical abuse aimed at him personally" as a significant reason for serving notice on the Sheepy Road club that he will not be putting himself forward for any committee positions at its annual general meeting in May.
The news has sent shockwaves reverberating through ATCFC and posted a huge question mark over its own survival as a footballing entity.
Four of five top positions on the club's committee will need to be filled at the AGM if the club is to proceed into the 2020/21 season under its existing rulebook.
Henney told Nub News: "Over the last few weeks I have suffered from very vociferous criticism and incorrect facts from a small minority of our own supporters on social media and forums in the light of recent decisions I have made during my time in office"
"I have also been subject to some disgraceful personal abuse to my face, at our recent FA Vase home game, which was witnessed by my family members."
Henney has called on a section of the fan base who "know who they are" to "step up to the mark" and put themselves forward for the vacant posts of chairman, vice chairman, club secretary, treasurer and football secretary "as without a committee these very people may well have sounded the death knell for the very club they purport to love".
Henney though as managing director, retains as trustee the community majority shareholding of 51 per cent in ATCFC Management Co Ltd, which is the sole legal entity, and the tenant without lease at the Sheepy Road ground, following his takeover of the old company. Henney upon his takeover immediately sold the football team and its asstts to ATCFC Management Co Ltd back in December last year for £1.
Henney said "I will not run the club in future. That will be up to a new committee." Vice chairman Nick Corbett and committee member David Turner, who are both directors of the ATCFC Management Co Ltd, currently retain the remaining shares on behalf of the supporters, these shares have no dividend and each director retains one vote. As more directors are appointed these shares will be diluted accordingly. Henney believes the 2019/20 season – unlikely to ever be surpassed for incredible highs and desperate lows – is all but finished. "This season won't end properly," he said ruefully. "And I am confident it will not restart and am worried that the start of next season will be delayed, too." On the impact of coronavirus, he said: "Clubs at our level cannot exist unless they are playing football in front of crowds. It's no good playing behind closed doors. "It is impossible for clubs such as ours to survive without gate receipts and sponsorship, both of which are currently very low priorities under the current situation. "The best thing the FA could do now, is to cancel the season as soon as possible, giving all clubs the opportunity to start planning for the start of the next season, "However, lots of clubs in the lower league will not survive the coronavirus outbreak. It's very sad. "And unless the positions are filled at the AGM with people who are committed to fulfilling the roles as required, then this club won't survive either. The last eight months reached dizzying new heights which left the club on the brink of Wembley dream in the FA Vase and enough games in hand in the Midland Football League Division One to secure promotion and still arguably take the title. But unfortunately it will be remembered for storm battering, waterlogged pitches, race abuse allegations and now caught in a state of suspended animation – at the mercy of a global pandemic. The outgoing chairman does have some unfinished business to settle on the lease at the Mark Webster Community Stadium and actual playing surface. Last month, North Warwickshire Borough Council made a public commitment to help secure a long-term future for Atherstone CFC. Councillors made a civic commitment to see the football ground remain a sporting facility, declaring the ATCTC a "positive force for good within the local community". The council said it wanted to enter into negotiations with the Town CFC with a view to the asset transfer of the site or to provide them with a long-term lease so they can access readily-available funding from Sport England and others. Now Henney, who has twice pulled this club from the brink after Justin Parker stepped down as chairman in 2018 and in February after the fans' alleged racial abuse at Stafford Town which saw the departure of managers Scott Rickards and Mike Fowler and Dave Turner stepping down as club secretary, believes it is time for the borough council to act. The cancellation of a tranche of games in February and March because of rain-sodden grounds has made the outgoing football chairman more determined there should be 3G/4G pitches at Sheepy Road. He said: "The FA has told us there is money available. What we need is a partnership going forward for development at Sheepy Road." He envisages a small training pitch on The Bank and 3G/4G pitch which would give another three children's pitches across the adult surface area which the community could use. Henney added: "Tamworth rent their pitch out every hour of every day. They just reserve it for midweek and Saturday matches. "We can get one. But we need the council to act and not just talk about being committed to us and saying 'we're here to help'. "Give us a 30-year lease or an asset one for 99 years. We realise the council will always own the land. "It's all about the time frame. And it looks like we will have to wait another year the way things are progressing. "Why can't they turn round and say you can have it. It's taken them a month to come back to us and say they are thinking about a partnership." North Warwickshire Streetscape director Richard Dobbs told Nub News: "Officers from NWBC met with representatives of ATCFC at the end of January. "The meeting was very positive and the council is currently exploring options with our leisure facilities' consultants on how the football club's future needs can be accommodated within the wider provision of leisure and sporting facilities."