Atherstone Town striker Joe Obi on tackling opponent Covid-19 and how Government advice is turning him into a winner at losing weight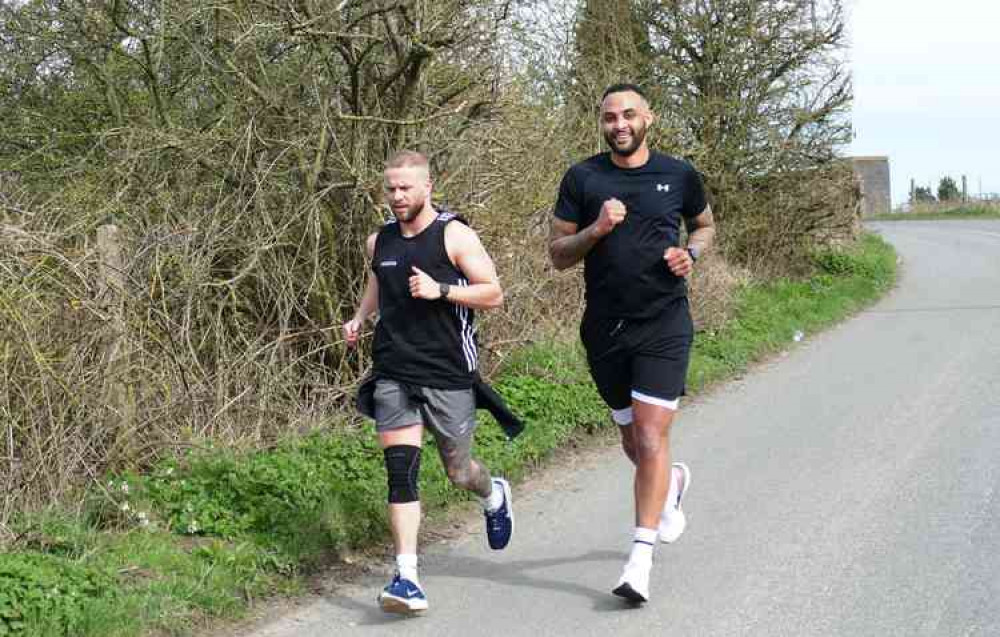 Keep on running: Joe Obi, right, and Adam Davies out on their daily exercise PICTURE: Nick Hudson
STAR MAN SAYS ONE WEEK OF DAILY EXERCISE AND THE SCALES ARE TELLING HIM: I'M FINALLY OUT OF THE HEAVWEIGHT DIVISION
THEIR PROMISING season may have come to a premature end but Atherstone Town joint manager Adam Davies and star striker Joe Obi are running with the only message that matters now when tackling an opponent in the Covid-19 'shirt' that's been declared public enemy number one.
The Sheepy Road pair out said they are right behind Government advice to tackle the coronavirus outbreak which has been clarified to urge people to "stay local" when exercising.
Nub News caught up with the athletes in the Mancetter countryside doing their once-daily exercise regime allowed by Boris Johnson after the Prime Minister sent the nation into a virtual lockdown in a bid to slow down and flatten the peak of the deadly virus which has already claimed more than 1,200 lives in the UK.
Certainly, with the first weekend of isolation behind us, Atherstone and North Warwickshire appear to have heeded the updated guidance of the Environment Department on how to stay safe when exercising plus the ongoing test of social distancing.
The advice from the Government is simple: "The public should stay local and use open spaces near to your home where possible", adding: "Do not travel unnecessarily."
And people should keep at least two metres from anyone they do not live with when out exercising.
The guidance came as police warned of "confusion" last week over where people could visit, forcing ministers to update advice.
As for the burly centre-forward, the enforced routine is paying dividends in fitness terms – turning him into a winner at losing weight.
Joe tweeted: "One week of daily exercise and no takeaways and the scales are telling me I'm finally out of the heavyweight division."
For Adders, the month of March saw the club go from the heights of dreaming of Wembley in the FA Vase, promotion to the Midland Football League Premier and possibly a title to the lows of seeing a season abandoned and outgoing chairman Brian Henney telling Nub News that the coronavirus-affected decision to scrap the 2019/20 season could lead to an "end of the show-show" for the Mark Webster Community Stadium-based club.
For the Adders overlord is fearful that no one will step into his vacating role or fill the currently empty ones of other officers at the annual meeting on May 17.