Departing Brian Henney on season of two halves: Without racism issue and managers resigning, I might still have wanted to be chairman of Atherstone Town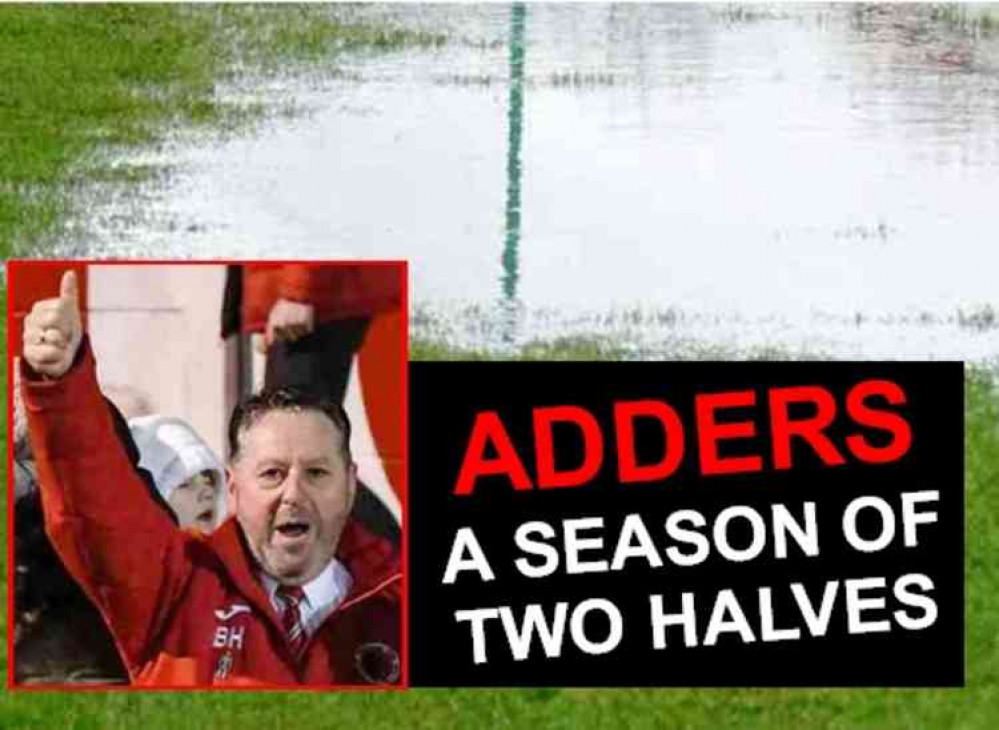 Sunshine and showers: Thumbs-up from Brian Henney and a seson marred by rain and racism claims
ATCFC OVERLORD STEPS AWAY AS VICE-CHAIRMAN NICK CORBETT TAKES OVER REINS WITH MAJORITY SHAREHOLDING
OUTGOING football chairman Brian Henney has walked away from his beloved Sheepy Road a week earlier than planned with one big lingering doubt after reflecting on "doing my best for Atherstone generally".
The affable business entrepreneur, town councillor and former member of the North Warwickshire authority dropped a bombshell last month when he told Nub News he was quitting as club and effectively 'playing' boss at the Mark Webster Community Stadium.
He cited being the victim of "disgraceful verbal and almost physical abuse aimed at him personally" as a significant reason for serving notice on his five-year association with the Midland Football League club which boasted a non-league pedigree few can match.
He committed to staying with the club until the official end of the football season – this coming Saturday – but has decided to leave ahead of schedule as there is "too much going on in my business life".
Sadly it's the same cause and effect for his Cubic Apple business in Abeles Way as football – the impacting curse of coronavirus that hangs over the whole world.
He has handed over his shares to vice-chairman Nick Corbett who retains as trustee now the community majority shareholding of 51 per cent in ATCFC Management Co Ltd, which is the sole legal entity, and the tenant without lease at the Sheepy Road ground. Mr Corbett will hold an additional 24 per cent, leaving a 25 per cent holding for former club secretary Dave Turner.
Mr Henney told Nub News: "I was planning to go at the official end of the season – on April 25 anyway. I have just gone a little earlier.
"I felt now was the best time to go and hand over to Nick Corbett."
Looking back, that famous footballing phrase couldn't have been more apt for Atherstone Town CFC– the proverbial game of two halves.
In February, the Adders were flying – into the last eight of the FA Vase and promotion certainties in the league, and with games in hand, an outside chance of the title. There were still in two other cup competitions.
But first storm-lashed pitches which brought cancelled games, then crowd trouble, was followed by a game at Stafford Town halted five times by the referee for what witnesses from both clubs have said WAS racial abuse allegedly directed at the home side's keeper Samuel Amedu, burst the Sheepy Road bubble.
The managerial duo of Scott Rickards and Mike Fowler – with defeat in 16 games – quit with Derby County trainee Rickards later telling the national press their joint decision to quit after the incident was in total support of black players in the team.
"How could we have looked them in the eye or ¬ourselves in the mirror if we hadn't acted?" he told the Daily Mirror, adding that what happened "has no place in any society or club I wanted to be a part of".
For chairman Henney it was a case of making lots of "tough decisions" at that time.
Control of the playing staff was taken "in house" until the later appointment of coaches Ross Innes and Adam Davies as joint managers.
And looking back on what might have been – Mr Henney is honest enough to say that without the racism issue casting a cloud across the whole season's achievements, it "might have been a different ending" to his departure.
"Perhaps if the racism thing hadn't have come up and the managers not resigned it is possible I would still want to be chairman of the club," he admitted.
He is perturbed by the fact that the issue has not totally gone away, adding:
"Despite the witnesses from both camps on the day there are some people at the club still believe it didn't happen. "Some on the committee still say it never happened. Four fans were identified and banned. He added: "We gave them the opportunity to apologise and they would have had their bans revoked at the end of the season. "All they had to do was apologise – we gave them 21 days to send in a letter. But the time elapsed without them getting in touch. They just never took up our offer. "They could have been back in the fold and, who knows, might be under a different chairman." Before handing over to Mr Corbett, he twice warned that four of the five top positions on the club's committee needed to be filled at the May 17 annual meeting. At the time of the warnings last month, none had with the ATCFC overlord was fearful no one would step into the vacating roles to make up the quorum. Brian Henney became associated with the running of the in 2015. He served as vice chairman and then chairman two years ago. Of his record, he says: "On the playing side we have had our best FA Cup and FA Vase runs during my tenure . "It would have been nice to get to Wembley this yar but it didn't happen, and coronavirus would have spoilt it anyway." And commercially, he notes: "I arrived with club in debt and leave it with no debt. "I definitely feel I turned things round. "I'm still a town councillor and served as a borough councillor for five years. "Add the football club to that and I think I have done my best for Atherstone generally."
39 STEPS: FIVE TIMELINE FACTS FROM NUBS NEWS' SPORTS' FILES (February 16-March 26)
FEBRUARY 16
ATHERSTONE Town chairman Brian Henney has promised to root out racist "cancer within the club" after the managerial duo which has taken the team to brink of a Wembley cup final dramatically quit along with the football secretary.
The Sheepy Road club – on a high, days after making history by reaching the last eight of the FA Vase – were brought crashing down to earth in the most ignominious way after admitting a "mindless" handful of fans had made racially abusive comments to Stafford Town keeper Samuel Amedu in yesterday's game at the Evans Park ground.
The Midland Football League Division One match was halted by the referee minutes after the start of the second half and Atherstone club officials despatched to speak to the guilty fans in a bid to stop the abuse.
In the case of manager Scott Rickards and his coach Mike Fowler, they issued a short statement announcing their departure with "great sadness following today's unacceptable behaviour".
MARCH 11
ATHERSTONE Town have gone back for their future in naming coaches Ross Innes and Adam Davies as joint managers to deliver "unfinished business".
The club – effectively managerless since Scott Rickards and Mike Fowler walked away from Sheepy Road after mindless fans were accused of making racially abusive comments to Staffod Town keeper Samuel Amedu in last month's league game – said the appointments are with "immediate effect".
The pair were in charge last night as Adders shook off their FA Vase disappointment and returned to winning ways in the BCFA Midweek Challenge Cup – this time a quarter final result going in their favour.
For Innes and Davies it will like they've never been away as they joined the Adders pre-season in June last year under the stewardship of former boss Ivor Green. When he left at the end of September, they departed too.
MARCH 26
OUTGOING Atherstone Town chairman Brian Henney has sounded a second warning to football lovers in the town that the coronavirus-affected decision to scrap the 2019/20 season could lead to an "end of the show-show" for the Sheepy Road club.
As non-league clubs were told this afternoon they will have to replay this season again beginning in August, the Adders overlord was fearful that no one will step into his vacating role or fill the currently empty ones of other officers at the Mark Webster Community Stadium.
When told by Nub News the ATCFC season was "over" as sport, along with everyday life, has been 'put on hold' by the pandemic outbreak – Mr Henney said it had still come as a "bit of a shock".