Atherstone's heartfelt plea for stricken Prime Minister: Let's all pray for Boris. We need you mate as does your family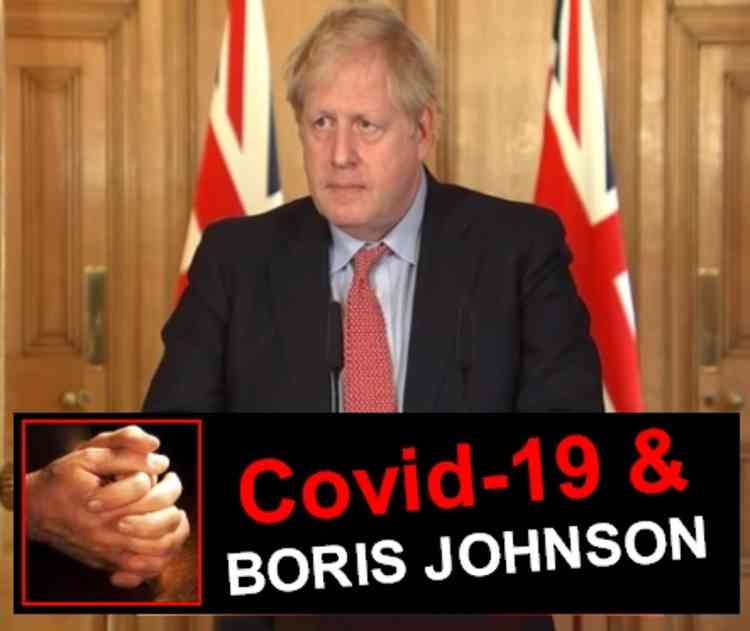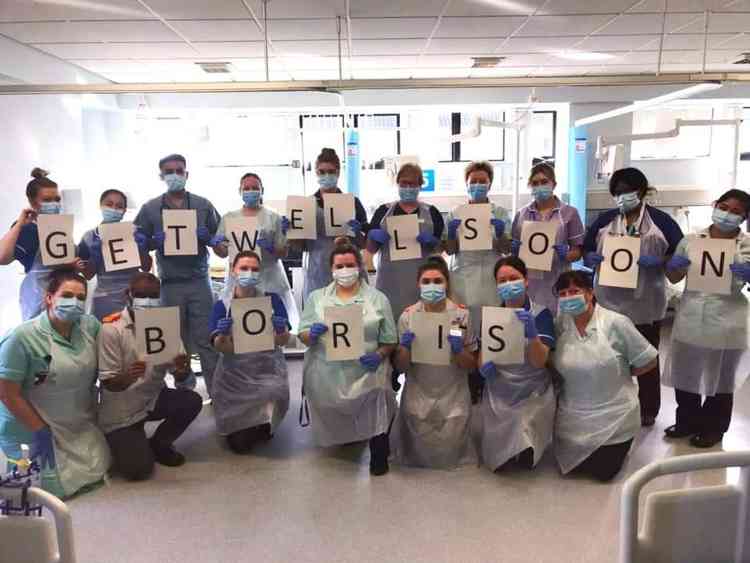 TOWN AND HOSPITAL STAFF JOIN UK POLITICIANS AND WORLD LEADERS IN WILLING PM JOHNSON TO WIN THE FIGHT AGAINST DEADLY COVID-19 VIRUS
ATHERSTONE joined UK politicians and world leaders in raising up a 'prayer for Boris' this morning as the gravely-ill Prime Minister takes on his deadliest opponent in coronavirus after being moved into intensive care last night.
The good people of the town and villages took to social media to urge Boris Johnson to "get well soon", applauding him for doing a "fantastic job" as the world battles a slient killer than has already claimed 5,400 lives Iin the UK and nearly 75,000 across the globe.
And doctors, nurses and staff at Atherstone's main hospital – the George Eliot in Nuneaton – sent the PM 16 letters of hope. The Nason ward team displayed a giant 'Get Well Soon Boris' message to the country's stricken leader.
Dominic Raab will take charge of the Government's response to the Covid-19 crisis after the PM was transferred to intensive care around 7pm on Monday at St Thomas's hospital in central London where he had been since Sunday night. He tested positive for the virus 11 days ago.
The Conservative Party leader ceded control "where necessary" to Foreign Secretary and First Secretary of State Mr Raab, who will deputise for the PM. Mr Raab's first job today is to lead the Government's emergency daily coronavirus "war Cabinet" meeting with senior colleagues and the UK's chief medical officer, Professor Chris Whitty, and chief scientific adviser, Sir Patrick Vallance.
As news broke of the serious turn in Mr Johnson's condition, Atherstone people took to the forums to offer words of support and encouragement to a man they may never have met but feel they know.
Roy Thompson set the mood: "Come on Boris, we need you mate to get well now."
Yvonne Wagstaff posted: "Hope he gets better soon, he really didn't look well at all the last time he spoke on television."
Laura Hughes added: "Oh no . . . speedy recovery Boris . . . get well soon"
Margaret Hickie offered her 'best wishes, adding: "You are doing a fantastic job" while Dianne Young Pocklington said: "Your Country needs you."
Janet Carter Hounslow summed up the mood of the nation, when posting on Atherstone People's Forum: "Let's all pray for Boris. We need him as does his own family."
Mr Johnson's fiancee Carrie Symonds previously said she had been suffering Covid-19 symptoms, but is "on the mend".
Ms Symonds, 32, who is expecting the couple's first baby in early summer, said she was not tested for the virus.
Atherstone's MP CCraig Tracey tweeted: "Very sad to hear the PM has been moved to intensive care. First and foremost, my thoughts are with his family at this time.
"He is a tough cookie and I know that with our amazing NHS, he is getting the best care.
"Get well soon Boris, we need you back as soon as possible."
New Labour leader Sir Keir Starmer tweeted: "Terribly sad news. All the country's thoughts are with the Prime Minister and his family during this incredibly difficult time" while London Mayor Sadiq Khan said he would be praying for the PM.
Buckingham Palace confirmed the Queen was being kept informed by Downing Street about the condition of Mr Johnson – the 14th prime minister of her reign.
Across the world, good wishes poured in.
US President Donald Trump said Mr Johnson was in a "very serious" condition to have been admitted to intensive care and offered prayers for his recovery.
At a White House press briefing, Mr Trump said: "I want to send our very best wishes to a very good friend of mine and a friend to our nation, Prime Minister Boris Johnson.
"We're very saddened to hear that he was taken into intensive care this afternoon and Americans are all praying for his recovery.
"He's been a really good friend. He's been really something very special: strong, resolute, doesn't quit, doesn't give up.
"But when you get brought into intensive care, that gets very, very serious with this particular disease," he added.
Indian Prime Minister Narendra Modi tweeted: "Hang in there, Prime Minister. Hope to see you out of hospital and in perfect health very soon."
Even national newspapers across the globe turned their front pages away from their own virus plight to bring news of the British PM being hospitalised, taken into intensive care but "remaining conscious".
The prime minister is in a hospital which is closest to Parliament and Downing Street.
He was moved to ICU on Monday evening after he began struggling to breathe and required oxygen. It is understood he is not yet on a ventilator.