To Atherstone and beyond: Whatever you decide to do on this sunny day, do it from a distance in the confines of your own home to beat Covid-19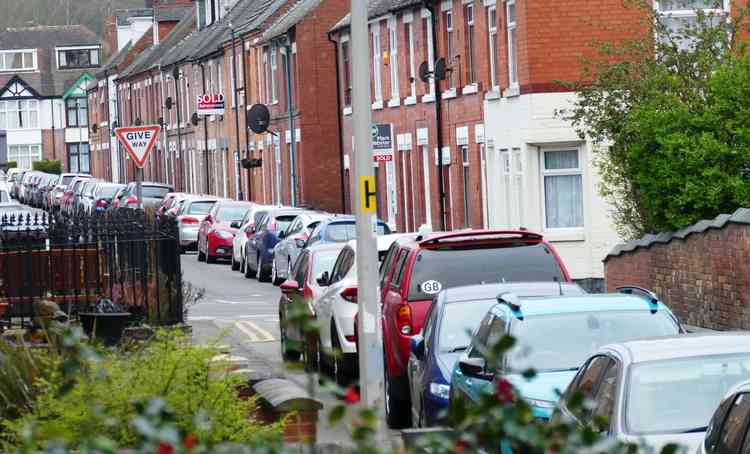 Welcome sign of the times: In Welcome Street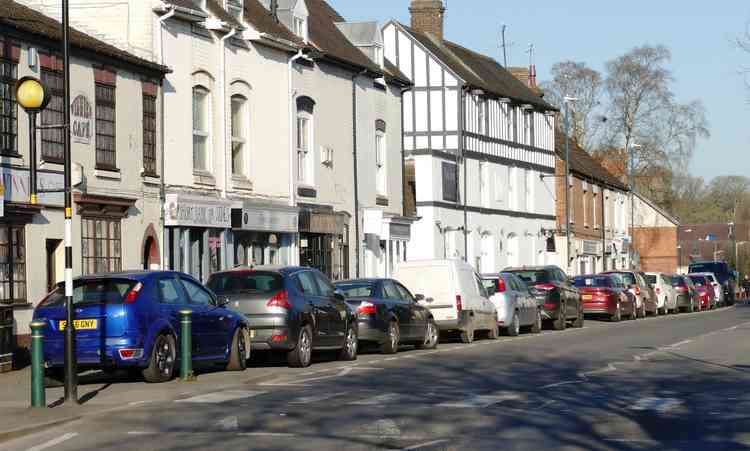 Solid: Bumper to bumper parking in Station Street
All quiet: In Market Square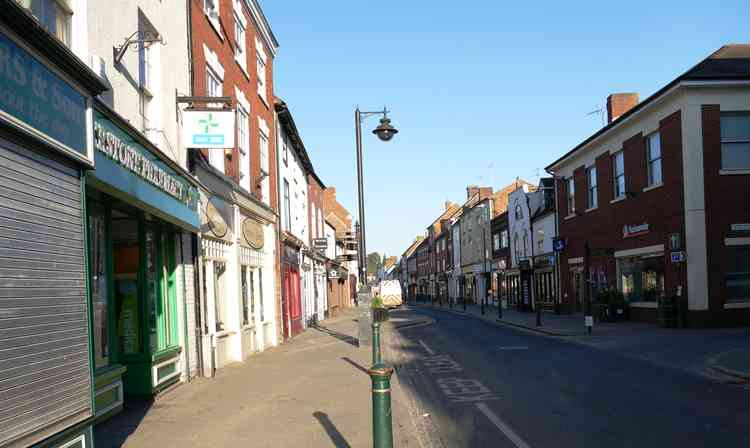 Sunshine and shadow: Long Street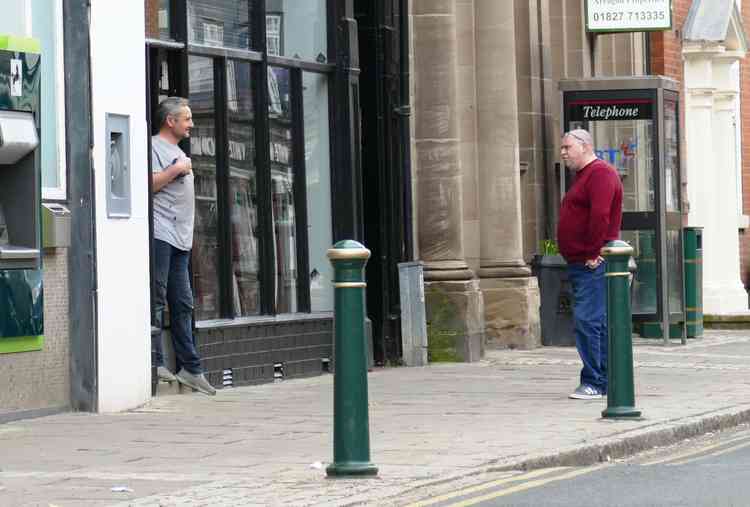 From a distance: Two men chat outside a closed Kerriann's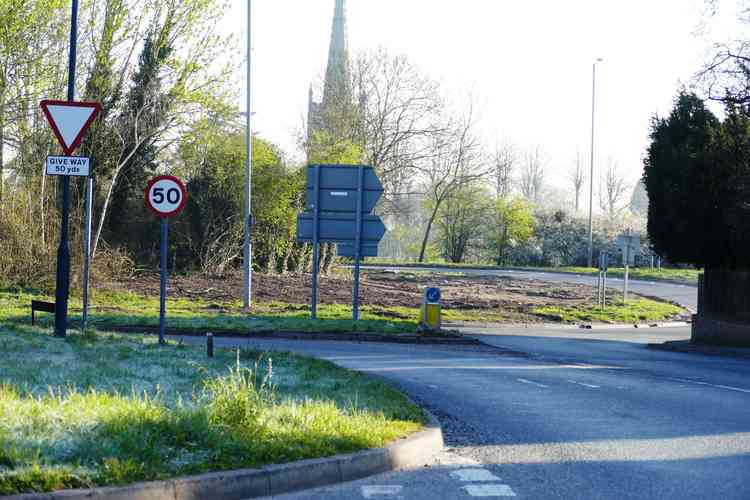 No way: Deserted Mancetter Island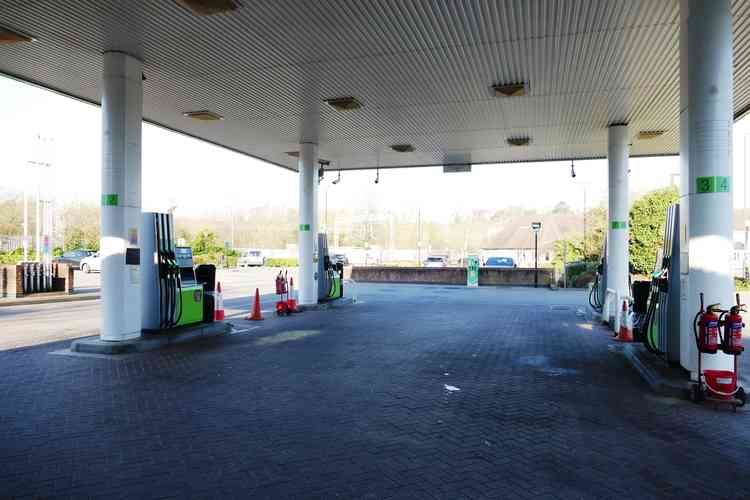 Carless Co-op: An empty petrol forecourt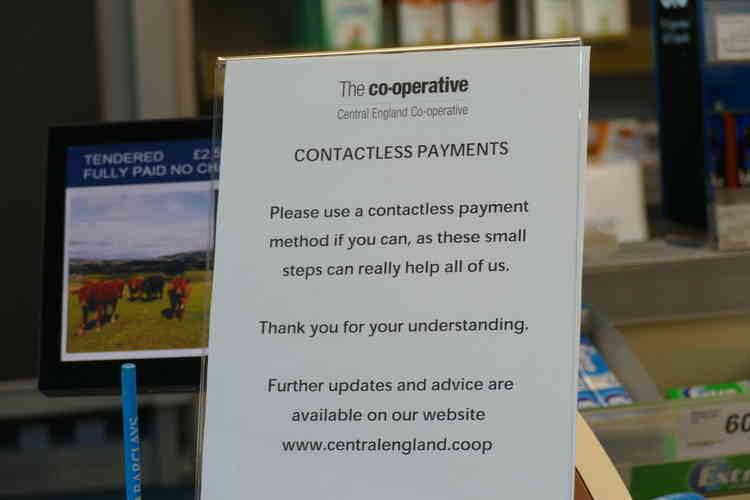 Another sign of the times: It's better with contactless cards during this pandemic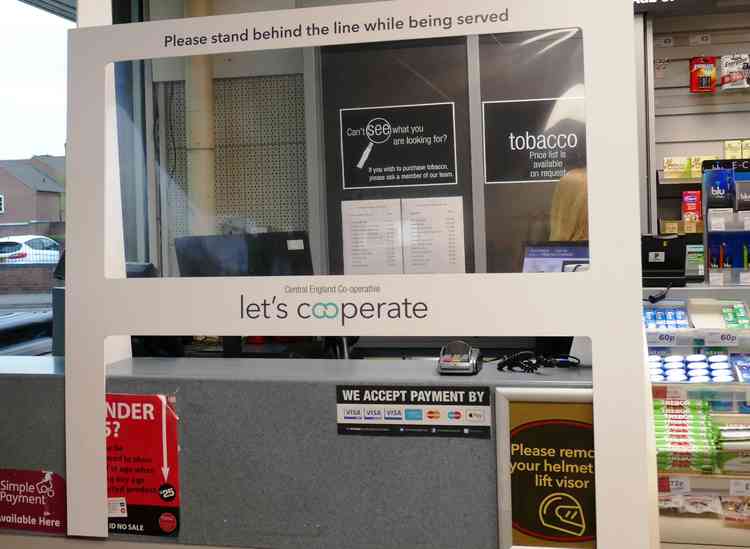 Screen protection: Co-op brings in vital support for its 'frontline' shop workers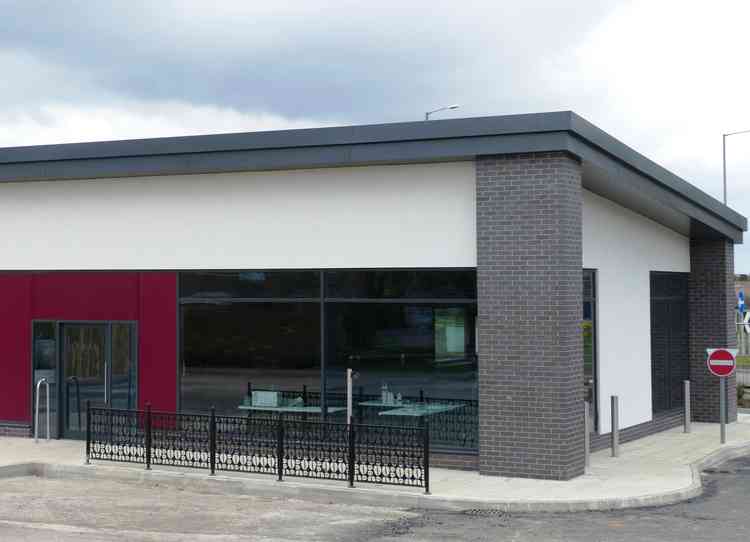 Coffee break: The three-quarters finished new Costa Coffee outlet in Grendon is still behind barriers, waiting to open
PARKED CARS ARE A WELCOME SIGN IN WELCOME STREET AS 'STAY AT HOME' MUST STICK FOR A WHILE LONGER
THE BUMPER-TO-BUMPER parking on Atherstone's most inviting thoroughfare tells its own story of the life-changing effects coronavirus lockdown has had on the UK over the last 28 days.
Welcome Street doesn't normally look like this on a busy weekday – it's pretty free of vehicles from 8.30am to 5.30pm.
Scroll through the pictures in this article to see how much Covid-19 has changed our perception of personal freedom and 'space' in the last month.
The deserted town and countryside surrounding Atherstone – cars in close formation in Station Street, Market Square empty, Mancetter Island vehicle-less, an empty Co-op petrol forecourt with screens protecting their shop workers as well as polite messages showing 'cash' is no longer king and queen of the High Street but contacless cards are better during this pandemic– tell their own story.
As does two men chatting in Long Street – from a distance.
It's ironic that our mode of transport as well as our bodies are now brought together in a 'stay at home' diktat involving something we'd never heard of until this year – social distancing.
We're having to live like real families in a united, small group but keeping away from other relatives and friends.
And today, as the town wakes to glorious blue skies and beautiful sunshine on what will be the hottest day of the year so far, then it was never as important as now to heed the words of doctors, health experts, scientists, local and national politicians, who are compelling to stick with a regimented existence "for a while longer" if we're ever to beat coronavirus properly.
Locally, Warwickshire Police reinforced that message today: "As tempting as it is in lovely weather, please think twice about going out – and only do so if really necessary."
And nationally, aside from all the ministerial and medical warnings about not congregating in groups unless you live in the same house, there is an even more poignant reminder.
We MUST do this for the frontline workers who are not just risking their health but giving their lives to either treat virus cases or continue to provide food and essential services to keep our lives sustained.
Tributes have flooded in for NHS staff known to have died after contracting Covid-19.
Two nurses – both young mothers – five doctors and two healthcare assistants have contracted the coronavirus and died since the start of the outbreak.
Nurse Areema Nasreen, 36, died just after midnight on April 2 in intensive care at Walsall Manor Hospital in the West Midlands – the hospital where she had worked for 16 years.
Aimee O'Rourke, 39, also died at the hospital she worked at – the Queen Elizabeth The Queen Mother Hospital in Margate, Kent, on Thursday.
John Alagos, a 27-year-old nurse who treated coronavirus patients at Watford General Hospital, died after a shift on Friday.
Another healthcare assistant, Glen Corbin, 59, who worked at the Park Royal Centre for Mental Health in Harlesden, north-west London, for more than 25 years, has died.
Amged El-Hawrani, an ear, nose and throat consultant with University Hospitals of Derby and Burton NHS Foundation Trust died at the Glenfield Hospital in Leicester on March 28.
Professor Sami Shousha, 79, was an honorary professor of histopathology at Imperial College London and had worked at UK cancer research laboratories at London's Hammersmith and Charing Cross hospitals since 1978. He died on April 2.
Dr Habib Zaidi, 76, a GP in Leigh-on-Sea for more than 47 years, died in intensive care at Southend Hospital, Essex, on March 25.
Dr Alfa Saadu, 68, who had returned to work from retirement, died on Monday while being treated for Covid-19 at the Whittington Hospital in north London.
Adil El Tayar, 63, a renowned transplant surgeon, died at West Middlesex University Hospital in Isleworth, west London, on March 25.
Cabinet Office Minister Michael Gove's words at Saturday's Number 10 press briefing are most fitting: "They died while doing everything they could to help the sick and the suffering.
"We can all best honour them in playing our part in fighting the disease by staying home and slowing the spread."
And it's not just the frontline care workers who should be remembered for keeping the nation going during coronavirus – or how having to clean and sanitise vehicles places them in danger from Covid-19.
London Mayor Sadiq Khan said he was "absolutely devastated" as five bus workers working in the capital died after testing positive for Covid-19.
Mr Khan tweeted that "lives depended" on people following Government rules to stay at home unless travel was essential.
Unite regional secretary Peter Kavanagh, calling for full protection for bus drivers, said: "We have been working continuously with Transport for London and the operators to ensure the safety of drivers and others in the industry who are performing a heroic job in getting NHS and care workers to their places of work.
"These measures include deep cleaning of buses, additional cleaning of touch points, the sealing of screens around the driver, the provision of hand sanitiser for all and placing the passenger seating closest to the driver out of bounds."
Coronavirus has invaded our lives in a way we could never have dreamed.
As we enter the third week in lockdown – with people in Atherstone and surrounding villages joining the rest of nation in staying at home as a 'necessity' not an option, we wonder how long it is all likely to last.
We'd don't know when restrictions will be lifted, although Prime Minister Boris Johnson will review the measures for the first time next week.
However, when asked about an exit strategy at the daily press conference on Saturday, Mr Gove said: "There's no fixed point, no specific date in the calendar at which we can say things will change, we are keeping them under review."
One key Government doctor has said some measures may be in place for up to six months.
Dr Jenny Harries, deputy chief medical officer, said of the rules last week: "Three weeks for review, two or three months to see if we've really squashed it, but three to six months, ideally, but lots of uncertainty in that but then to see at which point we can actually get back to normal and it is plausible it could go further than that.
"This is not to say we would be in complete lockdown for six months, but as a nation we have to be really, really responsible and keep doing what we're all doing until we're sure we can gradually start lifting various interventions which are likely to be spaced – based on the science and our data – until we gradually come back to a normal way of living."
What needs to happen before the lockdown can end?
Ministers and scientists have been reluctant to say what requirements must be met before they relax the rules and are still emphasising the importance of maintaining social distancing.
Business Secretary Alok Sharma warned there could be another rise in cases if the measures are lifted too quickly.
He told a press conference on Wednesday: "What's also really important is that if we stop these too quickly, there is a possibility that that massive effort people have made across the country is wasted and we could potentially see a dangerous second peak.
"We absolutely want to avoid that."
One scientist has suggested that mobile phone data could help lift social distancing quicker by speeding up contact tracing.
Prof Martin Hibberd, professor of emerging infectious disease at the London School of Hygiene and Tropical Medicine said: "A combination of some social distancing measures, extensive testing and automated contact tracing could allow both a more regular social activity and a significant control of the outbreak."
Who will decide when lockdown ends?
The decision to end lockdown in the UK will be made by the Government alongside scientists and doctors.
When the measures were put in place last month, the Prime Minister said they would be reviewed every three weeks.
Top NHS doctor Professor Stephen Powis said scientists are still focusing on learning how the illness works.
He said on Saturday: "It is very likely that this virus will become established in populations throughout the world and so we need a strategy to manage this over time, not just in the next few weeks or the next few months.
"Scientific knowledge about this virus is still being discovered.
"As we learn more about it, as the scientific evidence builds, that will allow those strategies to evolve."
Yesterday Nub News reported that one scientist advising the Government said the shutdown is merely buying time and there is no clear exit strategy from the Covid-19 crisis.
Professor Graham Medley said: "This disease is so nasty that we had to suppress it completely. Then we've kind of painted ourselves into a corner, because then the question will be, what do we do now?.
"We will have done three weeks of this lockdown, so there's a big decision coming up on April 13. In broad terms are we going to continue to harm children to protect vulnerable people, or not?"
Well, whatever corner you find yourself in today, make sure it's one in your own home.
The images Nub News bring you of a sunny but deserted Atherstone, Mancetter and Grendon are hopefully just a passing phase in life's journey.
Let's take heart from what the Queen is expected to say at 8pm tonight in a special address to rally the nation amid the coronavirus crisis.
She will speak of how lives in Atherstone and beyond have been affected during this "time of disruption that has brought grief to some, financial difficulties to many, and enormous changes to the daily lives of us all".
The monarch will add that "those who come after us" will say the people of Atherstone and beyond were "as strong as any" when faced with a silent enemy codenamed Covid-19.
But those future words will only be spoken if "good-humoured resolve and fellow-feeling" which characterise Britons are matched with "self-discipline".
Like the two men standing outside the closed Kerrinann's in Long Street chewing over the events of another coronavirus-inhabited day . . . they have got the message enshrined in the lyrics of Bette Midler's song 'From A Distance'
To listen to the song click here.
Nub News has doctored the last verse to read:
From a distance you look like my friend
Even though we are at war (with Covid-19)
From a distance I can just comprehend
What all this fighting is for Stay home and keep on 'keeping your distance' to ensure there'll always be a Welcome Street in Atherstone.