As PM emerges from his brush with Covid killer, Atherstone asks: If you were in charge, how many lives would you be prepared to sacrifice for the country to return to normal economic activity by easing lockdown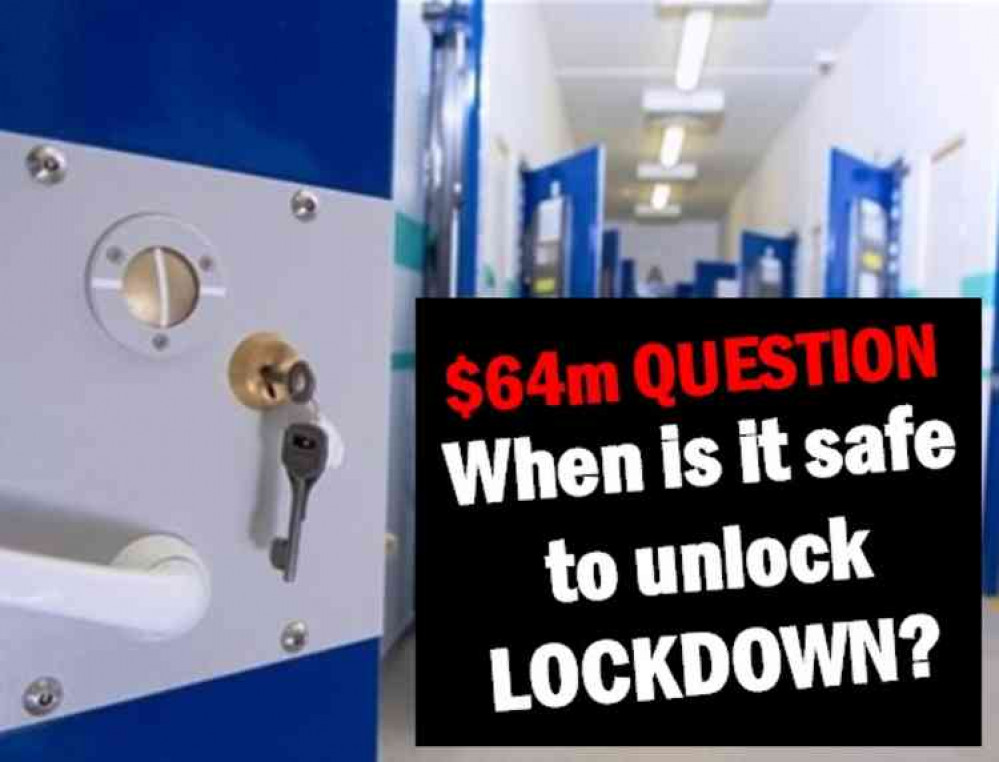 Question for our times: Economy v personal tragedy on easing lockdown
BUT OTHER SOCIAL MEDIA COMMENTATORS FEAR AUSTERITY MEASURES IMPOSED AFTER THE VIRUS RECEDES WILL LEAD TO EVEN MORE DEATHS
ATHERSTONE is standing shoulder-to-shoulder in empathising with Boris Johnson as he returns to lead the fight against coronavirus with the "life-and-death" decision over the right moment to ease lockdown and get North Warwickshire back to work.
The Prime Minister warned the nation the war against Covid-19 is far from over and "this is the moment of maximum risk" as he urged the UK not to lose patience with staying at home and social distancing as the global total for confirmed cases passed the THREE million mark this morning.
Standing outside 10 Downing Street this morning, he said he "refused" to risk a second wave of cases by lifting restrictions too soon, as he came back to work for the first time since his own battle with the virus.
And Atherstone social media commentators have debated the issue that the PM faces on the dichotomy of the "human cost against the economic impact" lockdown is having.
Forum followers accept that the restrictions – due to reviewed on May 7 – must carry on for now but some "truly believe" that in the final analysis it will be seen that lockdown is responsible for more deaths either directly or indirectly with domestic abuse, bankruptcy, mental illness and suicide than the virus itself.
As Imperial College epidemiologist Professor Neil Ferguson was warning that sending people back to work "too soon" – even with 80 per cent shielding – it would still lead to more than 100,000 deaths this year, Atherstone People's Forum follower Michael Carroll touched on the nub of the issue for the Prime Minister, industry and Britain at large.
Mr Carroll said: "If you were in charge, how many lives would you be prepared to sacrifice in order for the country to return to normal economic activity ?
"Would anyone want to be in a position where they had to address that question, not least come up with an answer?"
Lee Sutton said: "You can't return to normal after something like this overnight as it'll just come back again possibly mutated making things even worse.
"Normality means a vaccine and antidote. Without both, normality is impossible and the virus will always be around like all the others.
"Nothing will change money wise. National debt has increased and it'll be paid down as always by tax. You'll go out to work and pay your taxes.
"Everything will be devalued by 30 per cent and it'll start again increasing in value in future years.
"In the grand scheme of things from a financial point of view this is a step backwards. We will go forwards again no doubt.
"One thing is for sure at least we won't be carrying our own debt as well as EU debt on top.
"In my view I expect measures will be in place for at least 12 months from today in various forms."
Jenny Lewis agreed: "As you say, the measures are needed currently along with the extra cash injection so there's no point worrying about it, we will just have to get on with it, I don't see any other alternative."
Kelvin Lapworth, who started the debate, said: "I don't disagree for one moment that the current measures are the right ones but if restrictions carry on well into June I'm scared that we will have a full blown economic collapse and those of us that have lived through all the past recessions know what hardships that will bring."
Andy Burgess added: "I think that once the NHS can cope with Covid numbers we will see the economy restarted in stages – industry/schools first, retail second and leisure/pubs lastly over a nine week period maybe starting mid- May.
"But I agree it has to start at some point else the longer this drags on the harder things will get."
Adam Broadhurst posted: "I believe once we get to mid-May, lockdown restrictions should be eased.
"People need to go back to work. The damage to the economy and to people's livelihoods cannot go on
"I'd imagine the aftereffects will be much worse.
"Austerity was a tightening of the purse strings, the whole nation didn't grind to a halt and ask not to work indefinitely."
On that theme, several commentators warned of the other side of the impact of the pandemic.
Andy Baxter said: "The economic impact will kill many more than the pandemic.
"I think the original herd immunity would have worked if coupled with isolation of the vulnerable with a volunteer support network.
Colin Warden added: "I truly believe the lockdown will cause more deaths either directly or indirectly with domestic abuse, bankruptcy, mental illness and suicide than the actual virus. Some advisers say 150,000."
And Simon Oxford commented: "If figures are to be believed, since 2012 up to 130,000 additional deaths have been attributed to austerity measures.
"Once this has all calmed down and we have to pay for measures now put in place, how many more will die?"
Diane Nemeth Babington for some forum voice, concerned about the "doom of gloom" for the future and hoping for a "better world order" afterwards.
She said: "Oh let's spread doom and gloom. Don't you think people have enough to worry and cope with at the moment than to worry about what comes later.
"I understand that, but there are more people not coping with isolation than embracing it, for those people already struggling, the what may come in the future could be a tipping point, harsh reality."
Jo Tomkinson concurred: "I think people will look at life differently in the future and we will no longer be living in a materialistic society.
"Money will no longer be God and I think people will be happier for it."
Paul Russell disagreed to end the debate: "As we know it should be kindness, health and love that makes the world spin round, unfortunately it's money that makes the world spin round."
Britain entered the coronavirus lockdown on March 24, and some European nations are beginning to ease measures.
Ministers, however, are reportedly gloomy about any significant easing of the lockdown on May 7, needing to meet five key tests including slashing the number of cases and securing regular supplies of PPE.
The re-emergence of the PM at the helm comes as Foreign Secretary Dominic Raab admitted over the weekend a coronavirus vaccine is "unlikely to come this year".
Scientists the world over are attempting to develop a vaccine for Covid-19 – which has killed more than 205,000 people across the globe and infected 3,004,887 people.
The UK has seen its cases pass the 150,000 mark – up 4,463 to 152,840.
Hospital deaths rose 413 in the last 24 hours to 20,732.
Midland and North West towns, cities and counties saw larger increases than London over the last 24 hours.
Kent's numbers of people testing positive is rising faster than anywhere in the UK.
It recorded another 226 cases in the last 24 hours and retains the 'hot spot' for coronavirus in the upper tier local authority table with 3,185 people testing positive for the virus – Birmingham saw 47 new cases and remains in second spot with 2,659.
Warwickshire has 1,031 confirmed cases (23 up on yesterday), Coventry is on 539 (up three) – Atherstone's neighbouring county Staffordshire is in 10th place has 1,560 cases (up 54) and Leicestershire 836 (up 15).
By region, London now has 23,608 cases (up 267), East and West Midlands is 17,975 (up 393) combined, the North West 17,089 (up 380) and the South East 15,810 (up 367).
The majority of the UK population is obeying coronavirus lockdown rules, but many are feeling more anxious and depressed than usual, a survey has suggested
Respondents to wide-ranging research by King's College London have been categorised into three groups – the "accepting", the "suffering" and the much smaller "resisting" section.
Of the suffering group – which was made up mostly of women – almost two thirds said they have slept less or worse than usual, and a little over a third said they think about coronavirus all the time.
In the same group, 93 per cent reported feeling more anxious and depressed since the lockdown was introduced.
Young people were most likely to be in the resisting group, while people aged between 55 and 75 were most likely to be part of the accepting group, and both were majority male, those behind the survey said.
Fatigue or otherwise, the trend towards breaking lockdown measures is manifesting around the world.
More than two million people in Belarus celebrated the country's national day of civic labor without masks on Saturday while demonstrators defied social distancing rules to gather in the Rosa-Luxemburg-Platz square in Berlin.
Saudi Arabia will ease lockdown measures for the holy month of Ramadan, and millions of children in Spain were allowed to go outside this weekend for the first time in 42 days including trips to the beach on the Costa del Sol.
The resumption of public life is poised to accelerate across wide areas of the US in the coming days and weeks – mostly in Republican-governed states and despite warnings from health experts as Covid-19 cases in the United States near one million.
You can eat out at a restaurant in Tennessee from today, potentially congregate in an Idaho church next week and go shopping in Missouri as well
A study of data from 100 million cellphones found that millions of Americans are defying social distancing guidelines to make personal daily trips – a number that appears to have increased significantly in recent days, causing public health experts to worry about "quarantine fatigue."
In the UK, mobility data released by Apple has revealed that despite a dramatic drop in requests for directions, in recent days searches for maps for walking or driving have increased by eight percentage points.
Professor Stephen Powis, national medical director of NHS England, warned: "It won't take much for this virus to start increasing its transmission again and to spread more widely.
"It would be foolish and not right if we lost the benefits that we have gained over the last four weeks, which I know have been hard for everybody."
Which brings us back to the comments of the PM this morning.
He said there are signs that the UK is "passing through the peak" of the outbreak and "coming now to the end of the first phase of this conflict".
Comparing the disease to a mugger, he said: "This is the moment when we have begun, together, to wrestle it to the floor."
But he said it is also the moment of maximum risk because of the danger that people would look at the "apparent success" and "go easy" on social distancing measures.
It remains the "biggest single challenge this country has faced since the war", he said, and "every day I know that this virus brings new sadness and mourning to households across the land".
Speaking from a podium in Downing Street, Mr Johnson acknowledged the pressure to lift some of the draconian restrictions imposed on British people and businesses.
He said: "I want to get this economy moving as fast as I can" but "I refuse to throw away all the effort and the sacrifice of the British people and to risk a second major outbreak and huge loss of life."
He indicated easing lockdown would be a gradual process and promised the "maximum possible transparency" with efforts to seek consensus across party lines.
He said: "When we are sure that this first phase is over and that we are meeting our five tests – deaths falling, NHS protected, rate of infection down, really sorting out the challenges of testing and PPE, avoiding a second peak – then that will be the time to move on to the second phase in which we continue to suppress the disease and keep the reproduction rate – the R rate – down, but begin gradually to refine the economic and social restrictions and one by one to fire up the engines of this vast UK economy.
"And in that process difficult judgments will be made and we simply cannot spell out now how fast or slow or even when those changes will be made, though clearly the Government will be saying much more about this in the coming days."