Hot drinks and warm sunshine: Two top tips to Atherstone and beyond on how to help prevent getting Covid-19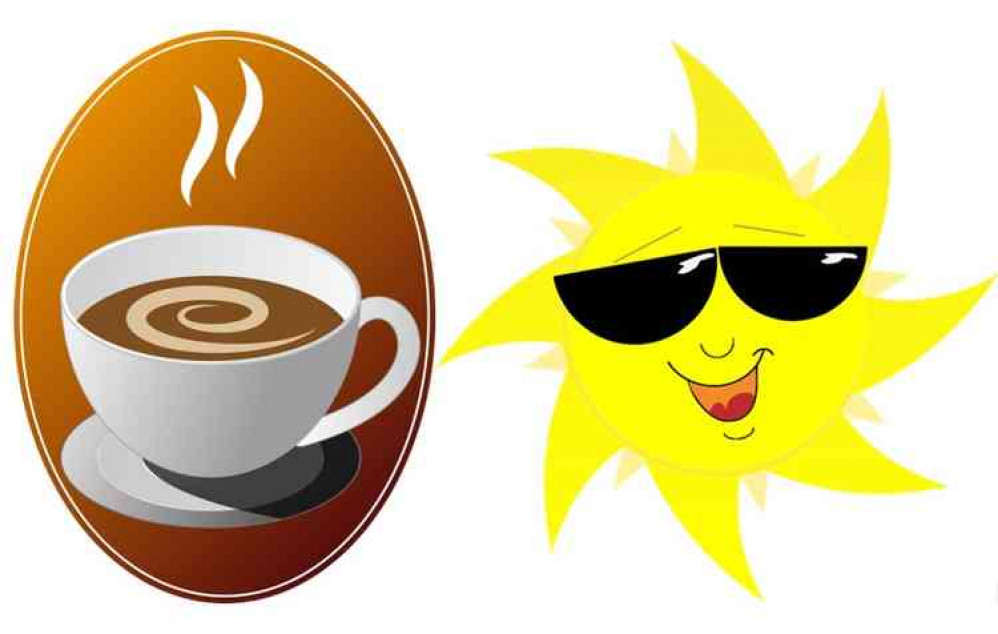 Warm advice: Hot drinks and sunbathing help ward off the threat of ciontracting coronavirus
HERE at Atherstone Nub News we're no different from the rest when it comes to how we handle coming to terms with a silent, but deadly, enemy which is coronavirus.
We're all scared of getting it and the potential consequences, and frightened, too, for our loved ones, friends and neighbours.
We've being bombarded with statistics and it's information overload at the moment as we scramble to get our heads round the enormity of a situation the like of which has not been seen since the ending of World War Two in 1945.
Now we're at the start of what is likely to be a very rigorous lockdown with which we have to contend.
And aside trying to amuse ourselves from virtual house and the innate need to eat and drink in order to survive, we've the added complication of fighting off something which has already affected 6,650 people in the UK with a death toll of 335.
Across the globe confirmed cases are now just shy of 400,000 and deaths at 17,233.
So during an enforced "stay at home" it seems sensible to focus our attentions of how to avoid catching the virus and emerge on the other side of this pandemic in one piece.
So Nub News has come into possession of advice given specifically to NHS staff.
It explains the virus and hopefully, how to prevent getting it.
So just as it is being shared co-workers in a great National Health Service, we thought it would be a good idea to share it with you – our all-too-valuable readers.
Remember this may be the only chance to stop yourself, or someone you know, from catching the virus.
Please read carefully – it's not too dramatic to say it might save a life.
Virus detection:
The simplest way to distinguish coronavirus from a common cold is that the Covid-19 infection does not cause a cold nose or cough with cold, but it does create a dry and rough cough. The virus is typically first installed in the throat causing inflammation and a feeling of dryness. This symptom can last between THREE and FOUR days. The virus typically then travels through the moisture present in the airways, goes down to the trachea and installs in the lungs, causing pneumonia that lasts about FIVE or SIX days. Pneumonia manifests with a high fever and difficulty breathing. The common cold is not accompanied, but there may be a choking sensation. In this case, the doctor should be called immediately. Experts suggest doing this simple verification every morning: Breathe in deeply and hold your breath for 10 seconds. If this can be done without coughing, without difficulty, this shows that there is no fibrosis in the lungs, indicating the absence of infection. It is recommended to do this control every morning to help detect infection.
Prevention:
The virus hates heat and dies if it is exposed to temperatures greater than 80°F (27°C).
Therefore, hot drinks such as infusions, broths or simply hot water should be consumed abundantly during the day. These hot liquids kill the virus and are easy to ingest.
Avoid drinking ice water or drinks with ice cubes.
Ensure that your mouth and throat are always wet, never DRY. You should drink a sip of water at least every 15 minutes.
Why?
Even when the virus enters water or other liquids through the mouth, it will get flushed through the oesophagus directly into the stomach where gastric acids destroy the virus.
If there is not enough water, the virus can pass into the trachea and from there to the lungs, where it is very dangerous.
For those who can, sunbathe. The sun's UV rays kill the virus and the vitamin D is good for you.
The coronavirus has a large size (diameter of 400-500 nanometers) so face masks can stop it, no special face masks are needed in daily life.
If an infected person sneezes nearby, stay 10 feet (3.3 meters) away to allow the virus fall to the ground and prevent it from falling on you.
When the virus is on hard surfaces, it survives about 12 hours, therefore when hard surfaces such as doors, appliances, railings, etc. are touched, hands should be washed thoroughly and/or disinfected with alcoholic gel.
The virus can live nested in clothes and tissues between 6 and 12 hours. Common detergents can kill it. Things that cannot be washed should be exposed to the Sun and the virus will die.
The transmission of the virus usually occurs by direct infection, touching fabrics, tissues or materials on which the virus is present.
Washing your hands is essential.
The virus survives on our hands for only about 10 minutes. In that time many things can happen, rubbing the eyes, touching the nose or lips. This allows the virus to enter your throat. Therefore, for your good and the good of all, wash your hands very often and disinfect them. You can gargle with disinfectant solutions (i.e. Listerine or Hydrogen Peroxide) that eliminate or minimize the amount of virus that can enter the throat. Doing so removes the virus before it goes down to the trachea and then to the lungs. Disinfect things touched often: mobile phone, keyboard, mouse, car steering wheel, door handles, etc
Please pass this on to your nearest, dearest and anyone you know who may not have seen it.